Kinematic Platform Mounts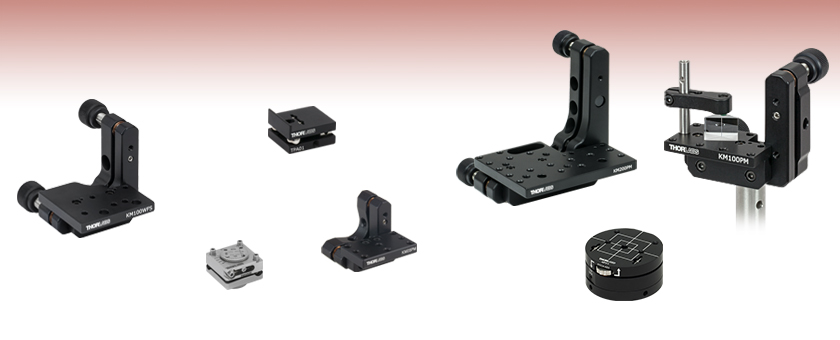 Mounts for Prisms, Fixed Optic Mounts, or Beamsplitters
Mount Specifically Designed for Thorlabs' Wavefront Sensors
Vertical or Horizontal Mounting Surfaces
TPA01
Pitch Adjuster for Fixed Optic Mounts
KPY1
Ø2" (Ø50.8 mm) Platform
Pitch/Yaw Mount
Application Idea
KM100PM Shown in the Right-Handed Configuration with a PM3 Clamping Arm and PS610 Prism
KM100WFS
#8 and M3 Through Holes for Mounting Wavefront Sensors
FBTB
Glue-In Mount for 5 mm Cube Optics
KM200PM
6-32 Taps, 8-32 Taps,
and #8 Through Holes
KM05PM
6-32 and 4-40 Taps

Please Wait
Features
Kinematic Vertical or Horizontal Mounting Surfaces
Mount Prisms, Beamsplitters, Non-Standard Optics, Fixed Optic Mounts, or Wavefront Sensors
±3°, ±4°, or ±5° of Tip and/or Tilt Adjustment
Kinematic Platform Options:


Mounting Platform Plate Perpendicular or Parallel to Adjusters With Mounting Holes for Clamping Arms
Tip/Tilt and Rotation, Glue-In Platform Mount for Small Optics
Pitch and Yaw Mount with Ø2" (Ø50.8 mm) Platform
One-Axis Pitch Adapter with #8 Counterbored Slot for Optic Mounts

Compatible with Optical Posts
Thorlabs offers kinematic platform mounts for prisms, wavefront sensors, small optics, and fixed optic mounts. The mounts feature one, two, or three axes of ±3°, ±4°, or ±5° tip/tilt adjustment.
Platform and prism mounts have two axes of adjustment and feature a mounting platform with 4-40 (M3) 6-32 (M4) taps to mount our PM3(/M) and PM4(/M) Clamping Arms. The back plate of each of these mounts have a 4-40 (M3) tap for mounting to our Mini-Series Optical Posts or have #8 (M4) through holes or 8-32 (M4) taps for mounting to a Ø1/2" post. Platform mounts provide a large mounting area and a beam path unobstructed by kinematic adjusters. The prism mounts offer a more compact profile. THe KM100PM(/M) and KM200PM(/M) can be configured in left- or right-handed orientations by repositioning the platform. We also offer a mini-series version, and version with mounting holes designed to hold our Wavefront Sensors.
Glue-In Platform Mounts are designed for 1/2" wide plate optics or 5 mm cubes. They feature three kinematic adjusters for tip and tilt and a separate adjuster for rotation. Each mount offers an 8-32 (M4) tap for post mounting.
The Kinematic Pitch/Yaw Mount provides ±3° of pitch adjustment on a platform that can be rotated 360°. It consists of a magnetically coupled top section and base, with a 1/4" (M6) clearance hole in the bottom for mounting to a post, optical table, or breadboard.
The Kinematic Pitch Adapter is designed to adjust the pitch of a standard optic mount. It has two 8-32 (M4) tapped holes for post mounting vertically or horizontally and a #8 counterbored slot for attaching fixed optic mounts.