Cuvette Holder with Four Light Ports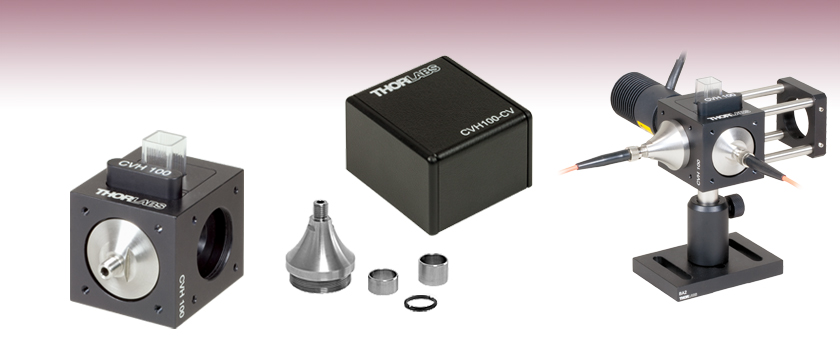 For Standard Macro and Micro Cuvettes
4 Light Ports for Fiber and Free Space
Includes Filter Holder for Mounted Ø1" Filters
CVH100
Cuvette Sold Separately
CVH100-COL
SMA905 Fiber Adapter with Lens Mount,
Spacers, and Retaining Ring
Flexible Mounting Options
CVH100-CV
Cover for the CVH100

Please Wait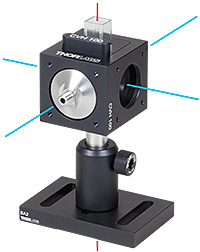 The optical axes (blue) are perpendicular with a crossing point that is mutually perpendicular with the vertical mounting axis (red). With this orientation, the alignment remains unchanged even if the holder is turned. For more views, please see the
Alternate Views
tab above.
Features
Accommodates Super Micro, Micro, or Macro Cuvettes
Compatible with Cuvettes with a Z-Dimension (Beam Height) of 8.5 mm
SM1 (1.035"-40) and 30 mm Cage Compatible
Post Mountable via 1/4"-20 (M6) Tap
Light-Tight Cover Available
Designed to accommodate standard micro and macro cuvettes, the CVH100 Cuvette Holder can be used in fiber or free-space applications. The holder features four SM1-compatible (1.035"-40) light ports, thereby offering two perpendicular light paths for transmission and fluorescence measurements. Both optical axes (blue lines in the photo to the right) and the axis for the post mount (red in the photo to the right) have a common crossing intersection point, which allows the user to turn the holder to use another port while maintaining the alignment to the optical axes in free space applications.
When purchasing small volume or window cuvettes, a 'Z' dimension is often specified. This 'Z' dimension is the length from the bottom of the cuvette to the center of the sample chamber window on the cuvette. The CVH100 and the included fiber adapter are designed such that the beam height will be 8.5 mm above the bottom of the cuvette (see the Specs tab for a diagram).
Filter Holder
The CVH100 cuvette holder includes one CVH100-FH filter holder, which is designed to house Ø1" mounted filters measuring up to 7 mm in thickness. These filters are typically used to achieve wavelength isolation for incident or emitted radiation. The filter holder is located between the cuvette and one of the ports. Additional CVH100-FH filter holders can be ordered separately, thereby enabling quick exchange of filters.
Fiber Adapter
The holder is shipped with a collimating SMA-to-SM1 fiber adapter, allowing the cuvette holder to be directly connected to fiber-based light sources, detectors, or spectrometers. We recommend our multimode patch cables for interconnection. An uncoated B270 collimating optic is included. Two SM1-threaded end caps are also included so that unused ports can be covered to prevent dust from entering the optomechanical assembly.
Ports of the Cuvette Holder

Input light port with 9 mm x 14 mm slotted hole

Output light port with Ø12 mm round hole

Ports of the 2nd optical axis with Ø9 mm round hole
Light-Tight Cover
A light-tight cover for the cuvette holder is available for applications that are particularly sensitive to light. This cover is compatible with cuvettes up to 50 mm (1.96") tall, including the stopper, as well as with the filter holder included with the cuvette holder.
Mounting
All four access ports on the cuvette holder are equipped with four 4-40 taps for compatibility with our 30 mm cage systems and a single bore that has internal SM1 (1.035"-40) threading for direct mounting to our lens tubes or other SM1-compatible products such as our OSL2 white light source or our mounted high-power LEDs. The CVH100 can be post mounted using the 1/4"-20 (M6) mounting hole on the bottom of the cuvette holder. The black anodized aluminum coating protects the mount from corrosion in typical lab environments.
Cuvettes
Thorlabs offers a selection of UV fused quartz cuvettes for use with our cuvette holder. These high-quality cuvettes transmit light down to 200 nm and are available in macro, micro, and super micro sizes for 3500 µL, 1400 µL, 700 µL, and 100 µL samples. They are available in versions with two polished windows for absorption spectroscopy or four polished windows for fluorescence spectroscopy where the measurement of the signal is at right angles to the beam path.
Alternate Cuvette Holders
For additional in-line cuvette and filter mounting capabilities, please see our Fiber Optic Filter and Cuvette Mounts.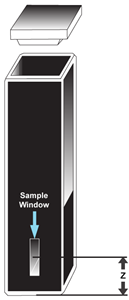 Click to Enlarge
Cuvette Z-Axis (Optical Axis Height Above Base)
Item #
CVH100
CVH100/M
Compatible Cuvette Properties
Outer Cuvette Dimensions
12.5 mm x 12.5 mm x 45 mm (0.49" x 0.49" x 1.77")
Cuvette Types
Macro and Micro Cuvettes with 10 mm (0.39") Light Path
Cuvette "Z" Dimension
(Optical Axis Height Above Cuvette Base)a
8.5 mm (0.33")
Window Sizes
Input (Main Optical Axis)
9 mm x 14 mm (0.35" x 0.55")
Output (Main Optical Axis)
Ø12 mm (0.47")
Side Ports (Secondary Optical Axis)
Ø9 mm (Ø0.35")
Optical
In-Line Filter Holderb
Mounted Ø1" (Ø25.4 mm) Filters
Filter Thickness (Max)
7 mm (0.28")
Fiber Port
SMA (removable)
Collimator Lens
Uncoated Glass, B270
Mounting
Main Optical Axis
Sunk SM1 Internal Thread (Optimized for Lens Tubes)
30 mm Cage System
Secondary Optical Axis
(90° to Main Axis)
SM1 Internal Thread
30 mm Cage System
Post Mount
1/4"-20
M6
General Specs
Material (Main Body / Collimator)
Aluminum Black Anodized / Stainless Steel
Weight
280 g (0.617 lbs)
Dimensions without Collimator (W x H x D)c
44 mm x 42 mm x 49 mm (1.73" x 1.65" x 1.93")
Dimensions with Collimator (W x H x D)c
44 mm x 42 mm x 60 mm (1.73" x 1.65" x 2.38")
Dimension Shown in the Diagram to the Right
Filters Sold Separately
Height with Filter Holder: 1.97" (50 mm)
Cross-Sections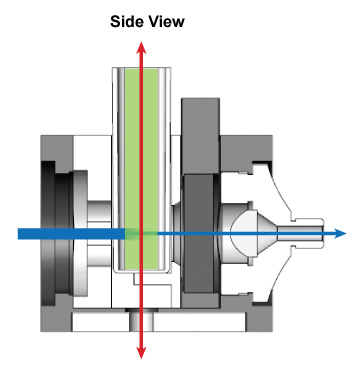 Click to Enlarge
Side view cross section showing the position of the mechanical
axis (red) and an optical axis (blue).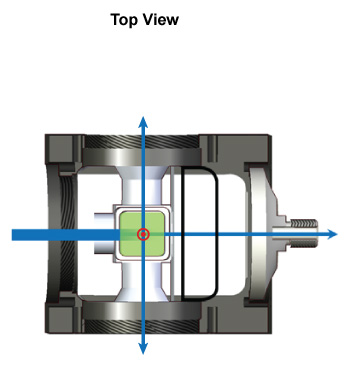 Click for Details
Top view cross section showing ray trace of beam through system and possible signals for spectroscopic measurements.
Exploded View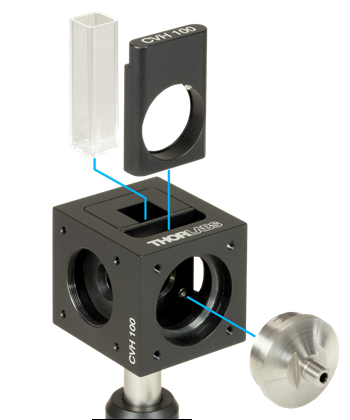 Click to Enlarge
Exploded view showing how the CVH100 components are assembled. The cuvette is sold separately.

For Free-Space and Fiber Applications
One Filter Holder for Mounted Ø1" Filters Included (Additional Filter Holders Available Separately)
Interchangeable SMA Collimator Included
Multiple Mounting Options
The CVH100 Cuvette Holder, which includes an interchangeable SMA Fiber Adapter and one CVH100-FH Filter Holder, offers a compact means for performing spectroscopic measurements. Designed to hold 12.5 mm x 12.5 mm x 45 mm cuvettes with a "Z" dimension of 8.5 mm (see the Specs tab), this cuvette holder provides four SM1-compatible (1.035"-40) side light ports for use with our SM1 Lens Tube products, facilitating light-tight applications when paired with the cover sold below. For quick filter exchanges, additional Ø1" filter holders (Item # CVH100-FH) are available separately.
The cuvette holder includes a fiber adapter designed to collimate the output from an SMA-terminated fiber with a fixed, non-removable, uncoated B270 collimating optic (f=8 mm, NA=0.547). For applications requiring a different lens, the fiber adapter can be replaced by the optional CVH100-COL fiber adapter (available below), which can mount any unmounted Ø1/2", plano-convex collimating lens.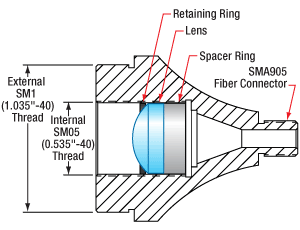 Click to Enlarge

Lens is Not Included with the CVH100-COL
SMA905-to-SM1 Fiber Adapter for the CVH100(/M) Cuvette Holder
Internal SM05 (0.535"-40) Threads for Mounting a Ø1/2" Plano-Convex Lens Into the Beam Path
External SM1 (1.035"-40) Threads Compatible with Side Ports on CVH100(/M)
Includes 6.8 mm and 9.6 mm Long Spacer Rings and a SM05RR Retaining Ring
The CVH100-COL SMA905-to-SM1 Fiber Adapter with Lens Mount allows the user to mount any unmounted Ø1/2" plano-convex lens and insert it into the beam path for collimation. This adapter can be used in place of the SMA905 fiber adapter included with the CVH100(/M). Use this option to optimize the fiber coupling for specialized setups (e.g., coupling into a large core diameter multimode fiber or if an AR-coated collimating lens is required).
The CVH100-COL ships with 6.8 mm and 9.6 mm spacer rings and a SM05RR retaining ring to secure the lens. Please note that lenses must be purchased separately; please see the table below for a list of recommended lenses. To safely secure the retaining ring, we recommend using either the SPW603 or SPW603L spanner wrench. Please note that plano-convex lenses should be mounted with the plano side facing the fiber (see the drawing to the right).


Click to Enlarge

Fits Cuvettes up to 50 mm (1.96") Tall
Light-Tight Cover for the CVH100(/M)
Accommodates Cuvettes up to 50 mm (1.96") Tall, Including the Stopper
Made of Polystyrene
The CVH100-CV Cuvette Holder Cover is a light-tight cover for the CVH100(/M) cuvette holder. The purpose of this cover is to protect the cuvette from stray and ambient light that would enter from the top of the cuvette holder. When combined with threaded caps (SM1CP2) on the unused ports, this cover can be used to create a light-tight setup.
The cuvette holder cover is able to accommodate cuvettes up to 50 mm (1.96") tall, including the cap or plug, as well as the filter holder included with the CVH100(/M). When a 50 mm tall cuvette is used, there will be 1 mm of clearance between the cuvette stopper and the cover, as seen in the image to the right.
This cover does not effect the cage-compatibility of the cuvette holder, as it does not overhang the upper cage rod holes.