Prelude™ Functional Imaging Microscope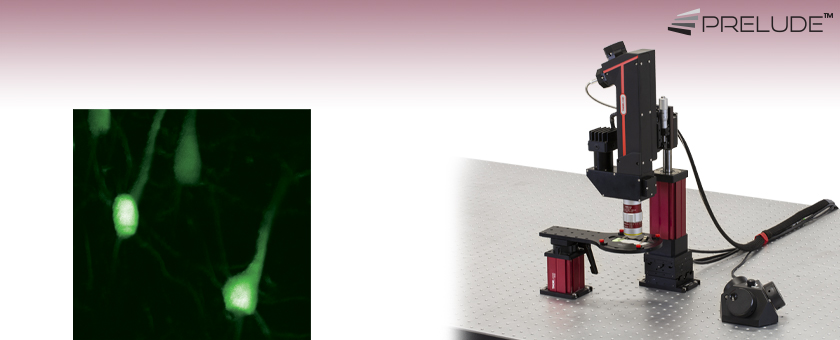 Compact and Maneuverable Multiphoton Functional Imaging System
Designed for Two-Photon Imaging of GFP
Motorized XYZ Translation and Manual ±90° Rotation
GFP-Labeled Mouse Brain Section
Prelude™ shown with TL10X-2P objective. Optical table and sample holder sold separately.

Please Wait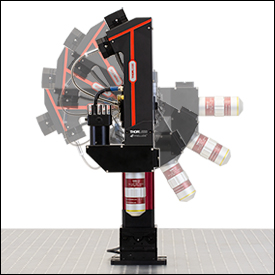 Click to Enlarge

The Prelude's motorized post mounting apparatus enables ±90° of manually operated angular positioning, as well as three-axis XYZ motorized translation.
Features
Laser-Alignment-Free Operation
Integrated Optics and Filters for Two-Photon Imaging of GFP
Fiber-Coupled fs Laser Source with Dispersion Compensation for Improved Contrast
Hypersensitive Silicon Photomultiplier (SiPM) Detector
Vibrationless Remote Focus Adjustment
Includes Long-Working-Distance 10X or 16X Objective
Ushering in a new level of flexibility for functional imaging, Thorlabs has created a completely integrated two-photon microscopy system suitable for samples with demanding positioning requirements. The Prelude™ Multiphoton Microscope offers motorized XYZ translation and manually operated rotation through a ±90° range, providing multi-axis access to samples at non-vertical angles. Its compact fiber-coupled design eliminates the need for complex alignment procedures and provides a high degree of maneuverability.
A near-infrared 920 nm femtosecond pulsed laser and integrated filter set are ideally suited for two-photon imaging of GFP. The fiber-coupled laser source allows for easy assembly, disassembly, and relocation of the system compared to multiphoton microscopes that use free-space laser beams and mirrors.
The Prelude is available with either of two objectives: a 10X dry objective with a long 7.77 mm working distance, or a 16X water-dipping objective with a large collection NA of 0.80. Non-descanned detection optics collect signals emitted over a 7° angle (for a Ø20 mm objective entrance pupil) and deliver them to a hypersensitive silicon photomultiplier (SiPM) detector.
A liquid crystal-based remote focus system provides vibrationless translation of the focal plane between 16 discrete positions over a 300 µm or 770 µm range when using the 16X objective or 10X objective, respectively. This enables the Prelude to perform volumetric functional imaging without moving either the objective or the sample.
Key Specifications
Scanner
4.7 kHz Resonant-Galvo-Galvo Scanning
Scan Speed
>12 fps at 512 x 512 Pixels
Collection Optics
7° Non-Descanned Collection Optics (for a Ø20 mm Entrance Pupil)
Detection
Silicon Photomultiplier (SiPM)
Motion
1" (25.4 mm) of Motorized Travel in X, Y, and Z
±90° of Manually Operated Rotation
Objective Threading
M32 x 0.75
Objective (Choose One)
Item #
TL10X-2P
N16XLWD-PF
Magnification
10X
16X
Collection NA
0.50
0.80
Immersion
Dry
Water Dipping
Working Distance
7.77 mm
3.0 mm
Imaginga
Field of View
1600 µm x 1600 µm (<100 Hz Scan)
880 µm x 880 µm (4.7 kHz Scan)
1000 µm x 1000 µm (<100 Hz Scan)
550 µm x 550 µm (4.7 kHz Scan)
Lateral Scan Resolution (FWHM)b
1.4 µm
0.9 µm
Axial Scan Resolution (FWHM)b
24 µm
9.4 µm
Remote Focus Range
770 µm
300 µm
Nominal Remote Focus Step Sizec
51 µm
20 µm
Specifications for Microscope with the Given Objective
Theoretical Values
As the remote focus steps are not exactly equally spaced, true step sizes will differ slightly from the nominal values.
Posted Comments:
No Comments Posted