Post-Mountable Viewing Screens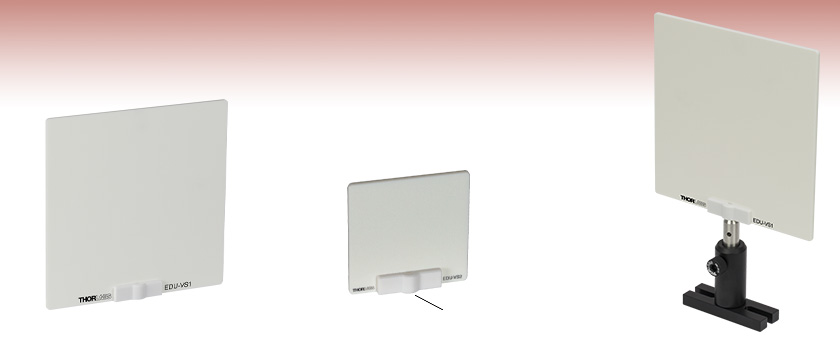 75 mm or 150 mm Square Plastic Viewing Screens
8-32 (M4) Tapped Hole for Post Mounting
Front and Back Surface Finishes are Ideal for Observing Interference Fringes, Spectra, and Images
EDU-VS1
8-32 (M4) Tapped Hole
Application Idea
EDU-VS1 Screen Mounted
on a TR3 Ø1/2" Post, PH3
Post Holder, and BA1 Base
EDU-VS2

Please Wait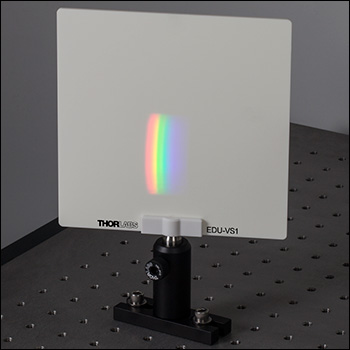 Click to Enlarge
Spectrum of the
OSL2
Halogen Light Source, created using a
PS858
Dispersing Prism. The screen is mounted on a
Ø1/2" Post
.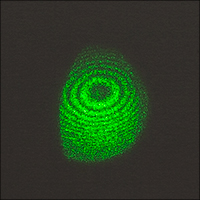 Click to Enlarge
Interference pattern showing laser speckle on the EDU-VS1 Screen, created using the Michelson Interferometer in our
EDU-BT1/M
Bomb Tester Demonstration Kit
Features
Two Sizes are Available:

75 mm (2.95") Square
150 mm (5.91") Square

3.0 mm (0.12") Thick
White Polystyrene Construction
8-32 (M4) Tapped Metal Thread Insert for Post Mounting
Thorlabs' Post-Mountable Polystyrene Viewing Screens are ideal for observing interference patterns, spectra, and images. The screens are available in small (75 mm x 75 mm) or large (150 mm x 150 mm) sizes. Both screens are 3.0 mm (0.12") thick. One side has a smooth matte finish, while the other has a slightly textured surface. These surface finishes were chosen to provide a diffuse, uniform reflection and to optimize the appearance of interference patterns and other images. Their white plastic construction allows bright images and beams to be observed even through the back of the screens. Each screen includes one crosshair sticker that can be used for beam alignment.
These screens are equipped with an 8-32 (M4) tapped metal thread insert for post mounting; this feature allows them to be easily integrated into optomechanical setups.
Please note that the screens should not be used as a beam block or as any type of laser safety device. Their plastic construction results in a low damage threshold and makes them slightly translucent.