Vytran® Fiber Recoaters with UV Lamps and Proof Testers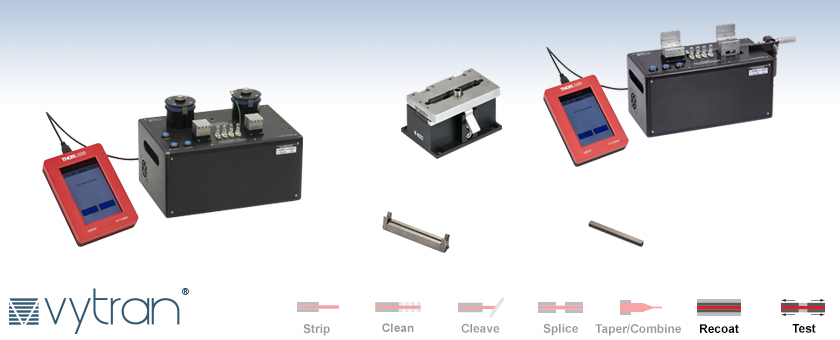 Recoat Fusion-Spliced Fibers to Restore Flexibility
Integrated Linear or Rotary Proof Tester
Manual and Automatic Recoat Injectors
PTR307
Fiber Recoater with Rotary Proof Tester and Controller
PTR306B
Fiber Recoater with Linear Proof Tester and Controller
RM430A
Mold Assembly for Manual Recoater (Sold Separately)
VHJT
Top Fiber Block Insert (Sold Separately)
VHJ500
Bottom Fiber Block Insert (Sold Separately)

Please Wait
Building a Complete Fiber Processing System?
To build a complete system, you will need to purchase a base unit plus additional components that are dependent upon the size of the fiber being processed. We recommend that you contact us prior to ordering for assistance with choosing a system and all the necessary components. This also allows us to install and factory-align all system components within the base unit prior to shipping, ensuring optimal performance out-of-the-box.
To take advantage of this assistance, please e-mail us directly at techsupport@thorlabs.com and a representative will contact you shortly.
Fiber Recoaters with UV Curing LEDs
Item #
Mold Assembly
Recoat Injector
Proof
Tester
PTR306
Manual
Automatic
Linear
PTR306B
Manual
Manual
Linear
PTR307
Manual
Automatic
Rotary
PTR307B
Manual
Manual
Rotary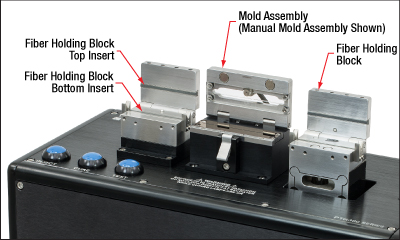 Click to Enlarge
Photograph of PTR306 Fiber Recoater with Linear Proof Tester. Red arrows indicate the mold assembly, fiber block holders, and fiber block inserts.
Features
Recoat Spliced Fibers and Test Splice Strength
Manual and Automatic Recoater Options:

Manual Mold Assembly with Automatic Recoat Injector
Manual Mold Assembly with Manual Recoat Injector

Integrated Linear (Up 20 N Load) or Rotary (Up to 89 N Load) Proof Tester
Fully Programmable with Push Button Operation via Handset Controller
Durable Quartz Mold Plate Capable of >10,000 Recoats
50 mm Maximum Recoat Length
Replacement Components Sold Separately Below
Thorlabs' Vytran® Fiber Recoaters with UV Lamps and Proof Testers offer easy, integrated solutions to recoat and test fusion-spliced fibers. The fiber recoating process restores the buffer coating to a stripped fiber, offering more flexibility than a heat-shrink protection sleeve, enabling it to be handled and coiled without damaging the fusion-spliced section. The integrated linear or rotary proof tester allows users to immediately test a recoated fiber with a pre-determined load and determine the long-term reliability of the fiber. Due to their ability to restore a fusion-spliced fiber to near original condition, these systems are ideal for applications such as undersea optical fiber cables, submarine communication cabling, fiber lasers, or Distributed Bragg Reflector (DBR) lasers.
The process starts with the fusion-spliced section of fiber being placed in the middle of the mold assembly (see image to the right). Once set in position, inserts in the fiber blocks secure the spliced fiber in place. Recoat material is pumped into the cavity and then UV-cured. The recoated fiber can then be tested by pulling on it up to a pre-determined load.
We also offer fiber recoaters with proof testers here that use UV LEDs for curing the fiber.
Recoater and Mold Assembly Options
Recoaters are available with a manual mold assembly. Manual mold assemblies use hinged mold plates that provide flexibility and are ideal for low-volume manufacturing or R&D applications. An automatic or manual volumetric dispensing pump and injection system is used to inject the recoat material into the mold cavity.
For our manual recoaters (Item #s PTR306, PTR306B, PTR307, and PTR307B), the mold assembly is sold separately so that customers can choose the right mold coating diameter for their application. Custom mold coating sizes are available up to Ø900 µm. Pre-installation of the mold assembly at the factory is also available upon request. Contact Tech Support for more information on custom molds or factory assembly.
Thorlabs offers both high-index (Item # AB950200) and low-index (Item # PC373) recoat materials for use in these recoaters. Recoaters with manual injection pumps (Item #s PTR306B and PTR307B) are compatible with both types of recoat material; all other recoaters are compatible with the high-index material only. Our manual recoaters with an automatic injection system (Item #s PTR306 and PTR307) can be customized to work with both the low- and high-index recoat material; please contact Tech Support for more information.
Proof Tester Options
The PTR306 and PTR306B Fiber Recoaters come with an integrated linear proof tester, which takes the fiber up to a predetermined load (≤20 N) and then releases it. The linear proof tester uses the same fiber holding blocks as the recoater and thus the fiber does not need to be moved prior to testing. The PTR307 and PTR307B Fiber Recoaters come with an integrated rotary proof tester, which can perform both proof and tension tests (≤89 N). One set of proof test grips is included; replacement proof test grips are available below in packs of 10. Each testing process is fully programmable via the included controller, allowing the user to select parameters such as the load, the rate at which the load is applied, and the hold time.
Inserts for Fiber Holding Blocks
In addition to the above, we offer a variety of inserts for use in the fiber holding blocks of the recoaters in order to support a wide range of fiber coating diameters. See the subgroup below for details.

Item #
PTR306
PTR306B
PTR307
PTR307B
Recoater Type
Manual
Recoater Mold
Hinged Split Quartz Plates
Recoat Diametera
280 µm, 430 µm, or 600 µmb
Maximum Recoat Length
50 mm
Recoat Material
High-Index
UV Curable Acrylate
High- or Low-Index
UV Curable Acrylate
High-Index UV
Curable Acrylate
High- or Low-Index
UV Curable Acrylate
UV/Thermal Source
Four 10 W Tungsten-Halogen Lamps
(Replacement Item # UVRB, Available Below)
Recoat Injection
Automatic
Manualc
Automatic
Manualc
Recoat Volume
Programmable (µL)
Manual
Programmable (µL)
Manual
Recoat Injection Rate
Programmable (≤1.8 µL/s)
Manual
Programmable (≤1.8 µL/s)
Manual
Lamp Delay Timed
5 s (Typical)
Cure Timee
17 s (Typical)
Mold Cleaning Requirementf
After Every Recoat
Total Cycle Time
60 s (Typical)
Dimensions (L × W × H)
10.25" x 5.0" x 5.0" (260 mm x 127 mm x 127 mm)
10.14" x 7.85" x 7.26" (257.4 mm x 199.3 mm x 184.4 mm)
AC Power
110 - 120 V / 200 - 240 V, 47-63 Hz
Controller Type
Handset
Proof Tester Specifications
Proof Tester Type
Linear
Rotary
Load Mechanism
1.5" (38 mm) Linear Fiber Clamp
Ø2" (50.8 mm) Rotating Mandrelg
Fiber Spacing
2.9" (74 mm)
5" (127 mm)
Minimum Fiber Length
6" (150 mm)
17" (432 mm)
Maximum Load
20 N (4.5 lbs)
235 kpsi (1.6 GPa) for a Ø125 µm Fiber
89 N (20 lbs)
>800 kpsi (5.5 GPa) for a Ø125 µm Fiber
Accuracy
±2%
Ramp Rateh
Programmable, ≤22.2 N/s (5 lbs/s)
Manual, ≤22.2 N/s (5 lbs/s)
Hold Time
0.00 s - 60.00 s, Programmabled
N/A
Display Units
lbs, kg, N, kpsi, and GPa
Custom sizes available; contact Tech Support.
Depends on the Mold Assembly (See the Mold Assembly Presentation Below)
Replacement Item # PTRRRM, Available Separately Below
Programmable with the Controller
Programmable with the Controller; Mold Size and Recoat Material Dependent
The mold should be cleaned with either acetone or isopropyl alcohol, applied with a cotton swab. If the mold has an accumulation of cured material stuck on the plates, allow the cleaning solution (preferably acetone) about 60 - 90 seconds to soften and lift the material from the surface.
Check the minimum short-term bend radius of the fiber to be tested to ensure its compatibility with the Ø2" mandrel.
The ramp rate is the rate at which the load is applied to the fiber.
Handset Controller GUI Interface
The VYT300C handset controller is included with the recoaters. It is also compatible with Vytran PTR series fiber recoaters and proof testers, as well as Vytran large-diameter fiber cleavers. One handset controller can be used to configure parameters on multiple fiber processing units in succession. Full instructions for using the handset controller can be found in the manual for each device. The screenshots below highlight key features of the graphical user interface.

Product Demonstrations
Thorlabs has demonstration facilities for the Vytran® fiber glass processing systems offered on this page within our Morganville, New Jersey and Exeter, Devonshire offices. We invite you to schedule a visit to see these products in operation and to discuss the various options with a fiber processing specialist. Please schedule a demonstration at one of our locations below by contacting technical support. We welcome the opportunity for personal interaction during your visit!
Thorlabs Vytran Europe
Exeter, United Kingdom
2 Kew Court
Exeter EX2 5AZ
United Kingdom
Appointment Scheduling and Customer Support

Click to Enlarge
Thorlabs Vytran USA
Morganville, New Jersey, USA
1400 Campus Dr
Morganville, NJ 07751
USA
Appointment Scheduling and Customer Support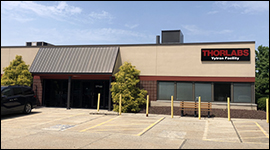 Click to Enlarge
Posted Comments:
No Comments Posted
The table below outlines the entire PTR series to directly compare the capabilities across the whole line.
Vytran® PTR Series Recoater and Proof Tester Selection Guide
Item #
UV Curing Source
Mold Assembly
Proof Tester
Recoat Injection Pump
Max Recoat Length
Recoat Material
Mold Cleaning Requirement
High Index
(Item # AB950200)
Low Index
(Item # PC373)
Dedicated Proof Testers
PTR301
N/A
N/A
Linear
N/A
N/A
-
-
N/A
PTR302
Rotary
-
-
Dedicated Recoatersa
PTR303
Halogen Lamps
Manual
N/A
Automatic
50 mm
-
After Every Recoat Process
PTR303B
Manual
50 mm
PTR403
LEDs
Manual
N/A
Automatic
50 mm
-
After Every Recoat Process
PTR403B
Manual
50 mm
PTR404B
Manual
100 mm
PTR304
Halogen Lamps
Manual
N/A
Automatic
100 mm
-
After Every Recoat Process
PTR304B
Manual
100 mm
PTR305
LEDs
Automatic
N/A
Automatic
50 mm
-
Dailyb
Recoaters with Proof Testersa
PTR306
Halogen Lamps
Manual
Linear
Automatic
50 mm
-
After Every Recoat Process
PTR306B
Manual
50 mm
PTR406
LEDs
Manual
Linear
Automatic
50 mm
-
After Every Recoat Process
PTR406B
Manual
50 mm
PTR307
Halogen Lamps
Manual
Rotary
Automatic
50 mm
-
After Every Recoat Process
PTR307B
Manual
50 mm
PTR407
LEDs
Manual
Rotary
Automatic
50 mm
-
After Every Recoat Process
PTR407B
Manual
50 mm
PTR308
LEDs
Automatic
Linear
Automatic
50 mm
-
Dailyb
These recoaters are designed to be used with high- or low-index recoater material. Thorlabs also offers the PRL201, which is designed for polyimide-coated fibers.
The mold assembly of these recoaters should be cleaned before the first recoating process of the day and then again after the last recoating process of the day.