Electrical Adapters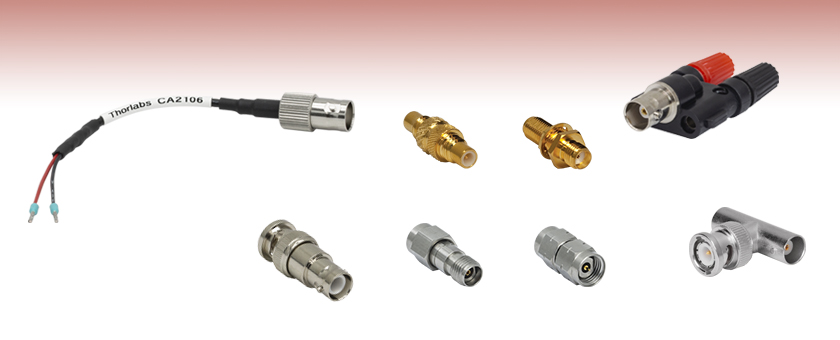 BNC, SMA, SMC, SHV, Banana, and Microwave Cable Adapters
Machined from the Highest Quality Materials
50 Ω Impedance
SMA Adapters
8 Choices
2.92 mm Adapters
7 Choices
BNC to Electrical
Interface Adapters
3 Choices
Banana Adapters
3 Choices
2.4 mm Adapters
7 Choices
BNC Adapters
7 Choices
SMC Adapters
8 Choices
SHV Adapters
3 Choices

Please Wait
Thorlabs offers a variety of electrical adapters including BNC, SMA, SMC, and banana adapters as well as several BNC to SMC, SMA to BNC, and SHV to BNC adapters. We also offer microwave cable adapters, BNC terminating brackets, a screw terminal pins-to-female BNC connector cable, and an SHV interface. All connectors on this page feature a 50 Ω impedance.
Calibrated torque wrenches are available to ensure that the proper mating torque is supplied when connecting two SMA, 2.92 mm, 2.4 mm, 1.85 mm, K, or V coaxial connectors.
Thorlabs also supplies 76-piece and 62-piece BNC and SMA electrical adapter kits.