Compact 5-Axis Pitch, Yaw, and Translation Stage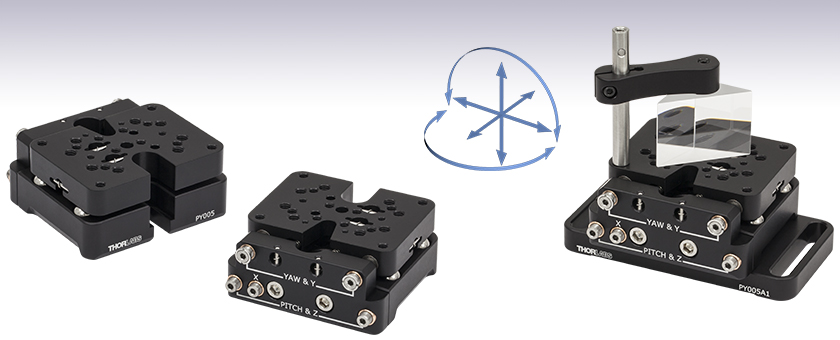 X, Y, and Z Linear Translation Plus Pitch and Yaw Adjustment
Compact Footprint: 2.36" x 2.15" (59.9 mm x 54.7 mm)
Kit for Use with 3-Axis Flexure Stages
PY005
Back
Front
5 Degrees of Freedom
PY005 Translation
Platform Shown with
a PY005A1 Base Plate,
PM4 Clamping Arm, and Prism

Please Wait
PY005(/M) Specifications
Travel Ranges
X, Y, and Z
0.12" (3.0 mm)
Yaw
±5°
Pitch
±3.5°
Resolution
X
146.5 µm/rev
Y
254.0 µm/rev
Z
146.5 µm/rev
Pitch
2.90 mrad/rev
Yaw
6.25 mrad/rev
Maximum Load
Platform Mounted
Horizontally
0.5 lb (0.23 kg)
General Specifications
Dimensions
2.36" x 2.15" x 1.08"a
(59.9 mm x 54.7 mm x 27.3 mma)
Actuators
5 x 100 TPI
Height is a nominal value.
Features
Pitch, Yaw, X, Y, and Z Adjustment
Compact 2.36" x 2.15" (59.9 mm x 54.7 mm) Footprint
Assortment of Top Platform Mounting Holes

Two 4-40 (M4) Tapped Holes
Twelve 6-32 (Four M3 & Eight M4) Tapped Holes
Eight 8-32 (M4) Tapped Holes
One #8 (M4) Counterbore

Kit and Accessories Sold Below for Compatibility with our 3-Axis Flexure Stages and Free-Space EO Modulators
The PY005 stage provides five axes of adjustment in an compact package measuring 2.36" x 2.15" x 1.08" (59.9 mm x 54.7 mm x 27.3 mm). It has five 100 TPI actuators for adjusting the top platform's pitch, yaw, X, Y, and Z positions. Two actuators together control the yaw and Y-axis position, two actuators together control the pitch and Z-axis position, and a single actuator controls the X-axis position. The actuators have a 5/64" (2 mm) hex for adjustments with a hex key or our HKTS-5/64 hex key thumbscrews. The base of the PY005 has two counterbored 1/4" (M6) slots, as shown in the photographs below, for mounting the stage to an optical table or to the mounting accessories sold below.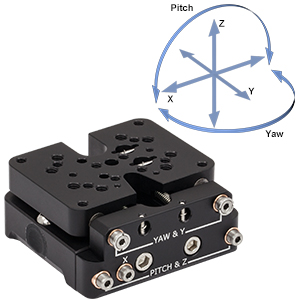 Click to Enlarge
The translating top platform of the PY005 has a variety of mounting holes and taps that can be seen by clicking on the

info icons in the tables below. These holes allow the platform to be used for many different applications. For instance, the eight 8-32 (M4) tapped holes and the #8 (M4) counterbore on the underside of the top platform, accessible from the bottom of the stage, allow optic mounts and other optomechanical components to be mounted on the platform, as well as the PM5(/M) stainless steel clamping arm. The eight 6-32 (M4) tapped holes are compatible with our PM3 and PM4 clamping arms (sold below). The holes are positioned so that the setscrew of the clamping arm is centered over the top platform. The two 4-40 (M4) tapped holes allow Ø1" optics to be mounted in our 30 mm cage optic mounts (Item # B5C1, B5CT1, or B5CT2). Additional 6-32 (M3) holes make the platform compatible with our FT-EOMA bracket (sold below) for compatibility with our EO modulators.
For use with our 3-Axis Flexure Stages, we offer the PY005-K1(/M) adapter kit that includes a pedestal base and flexure top plate. This kit has an overall deck height of 2.46" (62.5 mm) to match the deck height of the stages.
We also offer mounting bases to mount the PY005(/M) onto optical tables or breadboards.