2-Channel Compact USB Temperature and Humidity Logger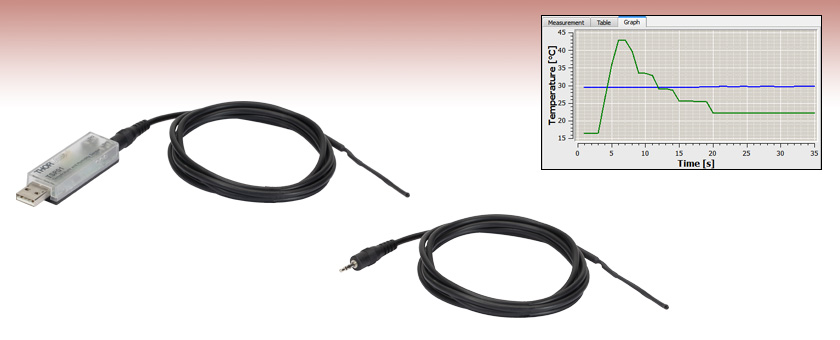 Temperature Measurements: -15 to 200 °C
Relative Humidity Measurements: 0% to 100% RH
Internal and External Temperature Sensor Options
USB 2.0 Interface
TSP01
(1 External TSP-TH
Sensor Included)
TSP-TH
(Optional 2nd External
NTC Sensor)

Please Wait
Measurement
Temperature
Rel. Humidity
Units
°C, K, °F
% RH
Internal Combined Sensor
Measurement Range
-20 °C to 70 °Ca
0% to 100% RH
Accuracy
±1 °C (@ -10 to 70 °C)
±0.5 °C (@ 25 °C)
±2% RH (@ 20 to 80% RH)
±4% RH (@ 0-20% and 80-100% RH)
Resolution
0.05 °C
0.1%
External Sensor (TSP-TH)
Measurement Range
-15 °C to 200 °C
N/A
Accuracy
±0.5 °C (@ 25 °C)
N/A
Resolution
0.05 °C
N/A
Number of Channels
2
N/A
This specification is for the temperature range of the sensor inside the USB unit. The actual temperature range of the internal sensor is limited by the operating temperature range of the USB unit (-10 to 70 °C).
Features
For Temperature and Relative Humidity Measurements
External Thermistor Probe with 1.5 m Cable
Additional Temperature Probe Available for 2-Channel Temperature Recording
USB 2.0 Type A Interface
Compact, Thumb-Drive-Sized Housing
Software GUI and Drivers Included
Measuring just 69.5 mm x 12 mm x 20 mm (2.74" x 0.79" x 0.47"), which is approximately the size of a USB thumb drive, the TSP01 provides a very compact solution for measuring temperature and humidity as a function of time via an intuitive software interface. Designed for PC use, it can be plugged into any USB Type A port, and it is capable of measuring and logging up to three different temperature signals (1 internal and 2 external sensors) and one humidity signal (internal sensor) simultaneously. Sensors can be enabled/disabled using the "Settings Panel" within the GUI.
One external TSP-TH NTC thermistor sensor is included with the purchase of the TSP01 temperature and humidity logger, and a second one can be ordered separately. Both probes are directly connected to the USB housing via a 1.5 m long, shielded cable terminated with an headphone connector. The data can be displayed by the included standalone GUI (see the Functionality tab for details). If desired, a user-supplied external NTC thermistor, providing a measurement range of 200 Ω to 80 kΩ, can be wired and used with this temperature and humidity logger. See the image of the 2.5 mm standard stereo headphone connector to the right for the pin connectorization.
Thorlabs' Beam Profiler software packages are capable of displaying simultaneously the temperature and humidity data as measured by the TSP01 as well as the beam profile data. When used together, beam profile, temperature, and humidity data is all stored together, thereby providing a complete log of environmental conditions as a function of time during an experiment. The included driver set also allows for integration into third-party software. For driver software, as well as programming reference guides for LabVIEW™, Visual C++, Visual C#, and Visual Basic, please see the Software tab.
The TSP-TH thermistor probe is also compatible with the PM400 Touchscreen Power Meter Console.
Measurement
Temperature
Relative Humidity
Internal Combined Sensor
Units
°C, K, °F
% RH
Measurement Range
-20 °C to 70 °Ca
0% - 100% RH
Accuracy
±1 °C (@ -10 to 70 °C)
±0.5 °C (@ 25 °C)
±2% RH (@ 20 to 80% RH)
±4% RH (@ 0-20% and 80-100% RH)
Resolution
0.05 °C
0.1%
External Sensor TSP-TH (1 Included with TSP01)
Type
EPCOS NTC M861
(R0 = 10 kΩ @ T0 = 25 °C, B = 3988 K)
N/A
Measurement Range
-15 °C to 200 °C
N/A
Accuracy
±0.5 °C (@ 25 °C)
N/A
Resolution
0.05 °C
N/A
External Sensor Compatibility
Supported Sensor Type
NTC
N/A
Number of Channels
2
N/A
Measurement Range
200 Ω to 80 kΩ
N/A
Units
°C, K, °F
N/A
Connector
2.5 mm Headphone Jack (Stereo)
N/A
Interface and Power Supply
Interface
USB 2.0 (HID Device)
Power Supply
5 VDC, 20 mA via USB
Measurement Update Rate
1/sec (Max)
General
Operating Temperature Range

b

-20 to 70 °C
Storage Temperature Range
-40 to 70 °C
Dimensions (W x H x D)
69.5 mm x 20.0 mm x 12.0 mm (2.74" x 0.79" x 0.47")
Weight
50 g (0.2 lbs) without Extension Cable and External Sensor
This specification is for the temperature range of the sensor inside the USB unit. The actual temperature range of the internal sensor is limited by the operating temperature range of the USB unit (-10 to 70 °C).
Non-Condensing

All technical data are valid at (23 ± 5) °C and (45% ± 15%) relative humidity (Non-Condensing)
Functionality Overview of the Software Package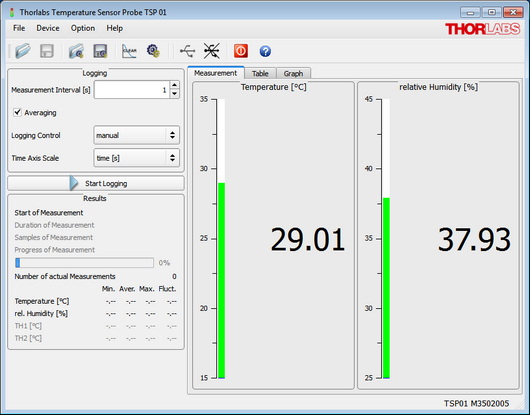 Logging:
The GUI software has multiple logging options, allowing the user to tailor the software to their preferences. The left section of the interface shows the main measurement options.
Measurement Interval: The logging interval, which is the time between two measurements, can be set from 1 to 10,000 seconds in full second increments.
Averaging: When averaging is unchecked, a single measured value per selected measurement interval will be logged. By checking this box, all measured values, which are taken every second regardless of the measurement interval chosen, will be averaged over the user-selected measurement interval and a single averaged value will be logged.
Logging Control Modes:
Manual Start / Stop of Logging
Start / Stop of Logging by Time Values
Stop of Logging after a User-Specified Number of Samples

3 Scale Options for the Time Axis:
Time in seconds
Time in hours:minutes:seconds
Time Stamp (date and time)
The time displayed on the "Graph" and "Table" tabs can be shown in any of the three options mentioned above. As shown in the screenshot above, the "Measurement" tab just shows the value of each active sensor (i.e., no explicit time) and is updated at the user-specified measurement interval that was entered in the logging box.
Start / Stop Logging:
This is a toggle button to start / stop logging data.


Results:
The logging statistics are summarized in the bottom left box of the GUI screenshot shown above.
Display Modes
Three different display modes, two of which are shown in the GUI screenshots displayed here, are accessible via tabs.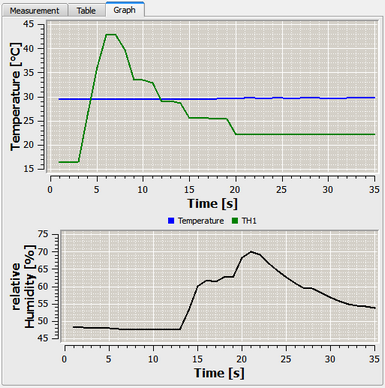 Measurement: (shown in the image above) The values of all enabled sensors are displayed numerically as well as on a bar graph with adjustable range and limit settings.
Table: (not shown) A list of Temperature/Humidity values as a function of time is given as well as the full date/time stamp.
Graph: (shown in the image to the right) Data for up to three activated temperature sensors [one internal temperature sensor (blue) and two external temperature sensors (green and red)] and one humidity sensor (black) can be displayed. All temperature curves are shown within a single line chart, which features zoom functionality for specific time periods. Sensors are activated in the settings window of the GUI (not shown).
Data and Configuration Import/Export:
The device configuration as well as the measured data can be stored on the connected computer as text files.
Software for USB Temperature and Humidity Logger
This software package also includes the instrument drivers for the National Instruments™, LabWindows™/CVI, and LabVIEW™a development environments. The drivers are intended for developers who want to extend or adapt the functionality of the device to their special requirements.
The software packages supports NI LabVIEW from version 8.5 onwards. For earlier versions the code can be converted. Please contact Technical Support for details.
When using the software with Windows 10, the AutoRun application may not work. Opening up the contents on the disc and manually starting setup.exe should resolve the issue.